Luxury Vinyl Tile in Valrico, FL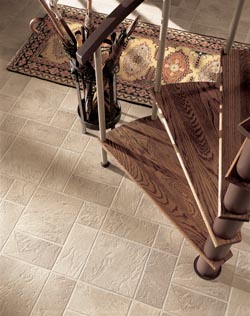 No one but you and your flooring professional need know that your stunning floors are luxury vinyl tile - and not real porcelain tile or hardwood plank. The brand names of resilient flooring that we offer at our local flooring store are of such high quality that they imitate nature to the smallest detail.
Among the most popular options of vinyl flooring are luxury vinyl floor tile and luxury plank flooring. The manufacturer's embossing process creates vinyl that you think is porcelain, ceramic, or slate tile; or hardwood plank. Come into our flooring showroom and see the realism for yourself.


Resilient Flooring – Better Than Ever
This type of flooring has been around for many years, but today's vinyl is much more realistic in appearance and durable in nature. The manufacturing process results in vinyl that looks like high-end flooring. Resilient flooring offers other pattern options in addition to porcelain or wood. Choose bright colors, soft shades, bold geometrics, or pretty patterns.
Vinyl floors are simple to care for: All that is required is dry mopping to remove dirt and damp mopping to condition. This flooring is made to resist water and liquids, so spills just need to be wiped up as they occur for your flooring to remain gorgeous. Resilient vinyl is also durable so it is a practical option for busy homes or commercial operations.


Luxury Vinyl Floor Tile Mimics Tile or Stone
Sometimes, it is not practical to install natural stone, porcelain, or ceramic tile in your home or place of business. However, you can still have that high-end look with luxury vinyl tile. Ask one of our flooring professionals to come to your home or business with samples of LVT. See how natural it looks and how comfortable it is to walk upon.
Vinyl gives our customers other options for flooring their homes. Perhaps, you have one room or many that require the resilience and functionality of vinyl floors.


Luxury Plank Flooring with the Beauty of Wood
You love wood, but the time may not be right for you to install a whole house full of hardwood flooring. We have a beautiful alternative for you – vinyl plank flooring. The details on this vinyl resemble different species of hardwood in all the details - including the knots, grain, and whorls. Luxury plank flooring gives you all the glory of wood, but make upkeep and maintenance so much easier.


Safeguard Your Floors with Luxury Vinyl Tile Installation
Choose professional luxury vinyl tile installation when you want to safeguard your floors from damage and would like to have them last a long time. As with any other type of flooring, expertise is required for the investment you are making. Let us send installation specialists to your home or place of business. These professionals have the skill and knowledge to install vinyl correctly.
The old flooring must be ripped up and the subfloor clean, dry, and level or the new flooring will not adhere properly. This is where the damage begins, for flooring that moves is subject to rips and tears.



Contact us today to see the realism of the luxury vinyl tile or plank flooring for yourself. We proudly serve residential and commercial customers in Valrico, South Brandon, Fish Hawk, Riverview, and New Tampa, Florida.