Tile Flooring in Brandon, FL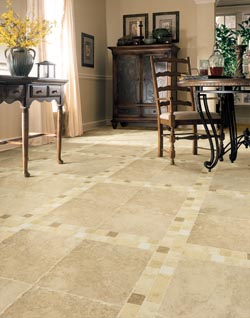 Looking for floors that don't buckle when exposed to water or heavy foot traffic? Unwilling to compromise on aesthetic appeal? Visit G. Fried Flooring America and discover the difference our sturdy, yet beautiful tile flooring in Brandon, FL, can make in your living spaces. We carry a large number of ceramic, porcelain, and slate products that offer the best of durability and style in one convenient product, so hurry in to explore our stock and find out which is right for your design goals.
Explore Tile Products
The beauty of tile flooring is that it comes in many different colors, sizes, and shapes. That means it's easy to find products that match your personal preferences for your kitchen, bathroom, or elsewhere. Visit our showroom to see our selection in person, or check our online catalog and browse from the comfort of your home. Below, you'll find more detailed information about our three main types of tile.
Ceramic Tile: Ceramic is the most common type of tile you'll find in the flooring world. It's durable, scratch resistant, and available in a number of dynamic styles. Best of all, because it's moisture resistant, it's perfect for use in rooms that see plenty of water.
Porcelain Tile: Porcelain is very similar to tile. However, due to small differences in the manufacturing process, it offers more in the way of durability and purity. It is denser than ceramic, making it more water resistant, and it stands up well to wear and tear.
Slate Tile: Make a statement by opting for slate tile--you'll enjoy its unique, natural beauty for years to come. Slate is an upscale option that offers lots of style-bang for its buck. Place it anywhere in your home and wait for the compliments to start pouring in.
Not sure which tile option is right for your project? It's easy to find out. Simply discuss your goals with a member of our staff, and we'll be more than happy to recommend materials, colors, and styles that match your description. We also carry mosaic, marble, travertine, and glass varieties.
Ask About Professional Installation
When you decide to switch to tile floors, don't forget about investing in professional installation services--after all, installation can mean the difference between a poor or high-quality finished product. This is especially true when speaking about tile, which requires skilled sealing and caulking to enjoy its true water-resistance potential. Ask a member of our showroom staff about tile flooring installation today, and we'll connect you with a contractor we trust.

Contact us today to request more information about the many different types of tile flooring available at our store. We proudly serve residents of Brandon, Florida, and nearby areas.