Waterproof Flooring in Valrico, FL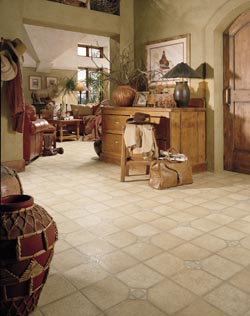 Talk to a design specialist at our local flooring showroom and learn more about the benefits of installing waterproof flooring in Valrico, FL. When a pipe bursts behind the wall, the flooring below could be ruined by the standing water. Your baseboards are sure to warp, and your flooring will undoubtedly become a total loss. Purchase new waterproof flooring from G. Fried Flooring America and get back to the business of living your life after a weather event.
Start the recovery process with waterproof floor coverings that are both functional and resilient. Vinyl tile is a reliable option for individuals remodeling their kitchens and bathrooms. In the aftermath of a flood, your waterproof tiles can be dried and reapplied during the renovation.
Recover quickly from a weather event when you purchase flooring designed for our intense summer storms. Your commercial establishment can have a new look and more significant value when you invest in our suite of waterproof products. Start a conversation with our team of designers about flooring options from leading manufacturers like Downs H2O and build something that lasts.
Form and Function
Function and appeal go hand in hand with the waterproof luxury vinyl planks we carry at our showroom. Hardwood species expand and contract at different rates, depending on the level of exposure to moisture and sunlight. While luxury vinyl gives you the look of natural materials and the scratch resistance of vinyl, standing water can still cause damage. Choose a waterproof option that can be reinstalled in the aftermath of a flood.
Water-resistant vinyl flooring gives you the look you want and the performance you need. Water-resistance is especially significant for families with young children and active pets. Spills are sure to happen at any time, so cover your floors with water-resistant carpet that keeps water away from the padding below. When you need a new appearance for your existing company, vinyl provides you with durability and lasting appeal at a price point that makes sense.
The Right Approach to Installation
When you take advantage of our 5-Star Selection System, you get the protections and warranties you need. Protect the warranty on your flooring with professional installation.
The performance you realize with your new waterproof floors is dependent on the quality of flooring installation you receive. Each contractor we deploy has the tools and experience needed to seal your floors the right way. When a flood rolls in, your waterproof planks and tile can be recovered and reinstalled after your subfloor has been drained. Choose a contractor with the right tools for this advanced type of floor covering.
Contact us today for the design assistance and waterproof floors you need to make your house a home. We proudly serve customers in Valrico, South Brandon, Fish Hawk, Riverview, and New Tampa, Florida, and surrounding communities